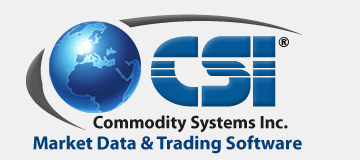 World Commodities
There are over 110 commodity futures exchanges in the world and CSI covers most of them. Many thousands of futures contracts are reported each and every trading day.
Open, High, Low, Volume, and Open Interest are provided. Last is provided for electronic sessions. Settlement is provided for pit sessions.
Briese's Commitments of Traders (COT) data is included in our Unfair Advantage software.
View All Commodities
All on One Page
By Exchange
By Category
Miscellaneous Info
Contract Expiration Schedule

Stocks
Most stocks over a penny traded in the U.S., Canada and the U.K. are reported.
Open, High, Low, Last Trade, and Volume are provided.
Split and Dividend data adjustments are available.
The stock history provided is unadjusted, but can be adjusted with the supplied splits and dividends.
Delisted Stocks are a premium service only available via our commercial sales dept
View All Stocks
By Exchange
Stock Index Options
Bid and ask are provided with high and low, if traded. The volume and open interest are provided.
Options on individual stocks are not currently available.
View All Stock Index Options
All on One Page
FOREX
Exchange rates of over 20 currencies.
Open, High, Low, and Close are provided. The close is defined as a price taken between 4:30-5:00pm ET. The open is the previous day's 5:00pm ET price. No volume is provided.
View All Forex
All on One Page
Mutual Funds
The full range of 20,000+ US mutual funds is provided.
The NAV (Net Asset Value) price is provided.
Closed-End Funds are listed as regular stocks in the stock listings.
Adjustments for capital gains and dividends are provided.
View All Mutual Funds
Economic Statistics
Our economic statistics include federal reserve interest rates, industrial production, productivity, producer price indices, and more.
One value is reported on a daily, weekly, or monthly basis.
View All Economic Statistics
All on One Page